First-Year Information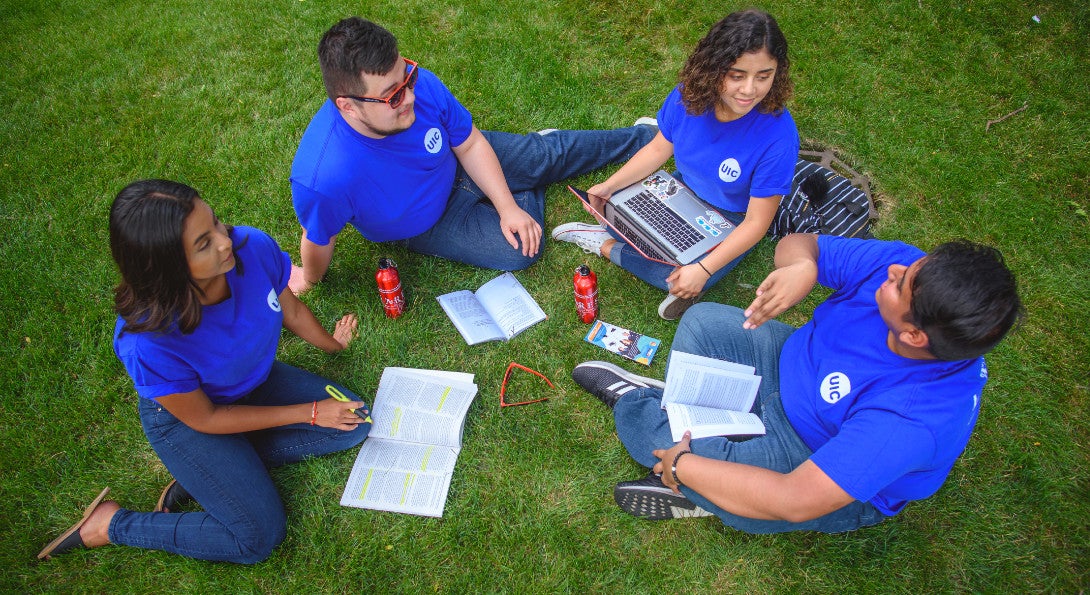 First-Year Information
The LARES program is excited to connect with you virtually! Through our virtual orientation sessions, LARES advisors will introduce admitted students to the numerous services provided by the LARES program. LARES advisors will answer financial aid questions, assist in the course registration process, provide information on academic and scholarship opportunities, and connect admitted students with undergraduate UIC Latino students. This session will be held during the Virtual Orientation Session at 2:00 PM.
All new first-year and transfer students will be assessed the New Student Fee as part of their first semester tuition and fees. Students who attend our orientation session will have the opportunity to win an award to cover the New Student Fee awarded by LARES.
Please contact lares@uic.edu if you have any questions.
First Year Info
LARES Course Registration 101

In this virtual session, students will learn step-by-step how to register for fall 2021 courses. Admitted students are highly recommended to attend this session once they have completed their one-day, virtual orientation program and an advising session with their respective academic college.

Beginning the first week of June, virtual sessions will be held every Wednesday from 11:00 a.m. to 12:00 p.m. These virtual sessions will run until the second week in August.

LARES Peer Connection Sessions

Do you want to meet other incoming UIC students before the start of the fall semester? Would you like an opportunity to connect to current UIC undergraduate students and recent graduates?

If you answered "YES" to any of these questions, consider attending a virtual LARES Peer Connection this summer.

Learn about UIC, resources and opportunities available to you, and information on how to get involved on campus by talking to your peers.

Students are welcome to attend one or all sessions!

LARES College 101 Trivia​!

This LARES Peer Connection "Trivia Style" session gives students an opportunity to dispel some of the myths they may have about colleges, while also providing them with an interactive virtual platform to interact with fellow incoming students.

This LARES Peer Connection session will take place:
-June 14, 2021 from 11:00AM-12:30PM.
-June 29, 2021 from 12:30PM–2:00PM

Preparing & Empowering Future Leaders

This LARES Peer Connection session provides incoming students with a snapshot of Latino compositions in higher education to underscore how important the academic success of Latino students is when it comes to the representation and empowerment of the Latino community. The LARES program will also share information on a number of resources and services available on campus designed to help students reach their educational endeavors.

This LARES Peer Connection session will take place
July 22, 2021 from 12:30PM – 2:00PM.

Build Your Network: LARES Edition

This LARES Peer Connection session gives students an opportunity to interact with UIC undergraduate students affiliated with a number of different campus programs and organizations. During this panel session, undergraduate students will not only share insight into their experiences at UIC, but they will also be available to answer questions from incoming students.

​This LARES Peer Connection session will take place
August 3, 2021 from 12:30PM – 2:00PM.

LARES Summer Institute

August 16 – 20, 2021 from 9:00 AM – 12:00 PM

The LARES Summer Institute is a great opportunity for students who are interested in developing their leadership potential and becoming agents of change for the Latino community. Please visit LARES Summer Institute for more information.

First-Year Scholar Award

The LARES First-Year Scholar Award was established to support the academic success of incoming first-year UIC students. Recipients are recognized for their merit and high school involvement. The $2,500 award must be applied toward tuition, fees, and educational related expenses.