Orientation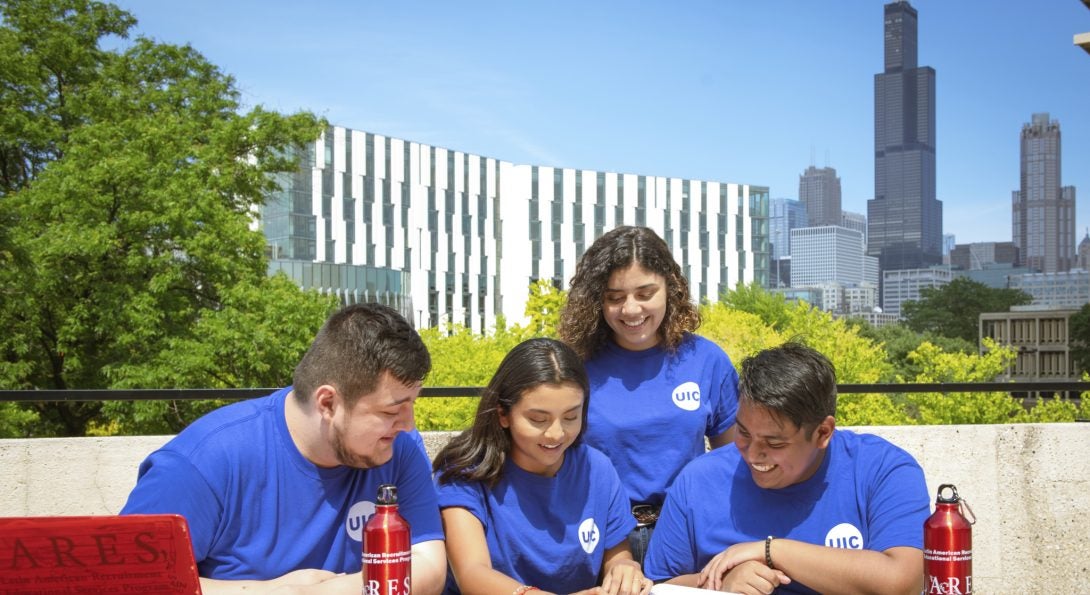 Orientation
In collaboration with the UIC Orientation Office and Colleges, the LARES program participates in all First-Year and Transfer Student Summer Orientations. In addition to providing co-advising with the College of Liberal Arts and Sciences, Business Administration, Engineering, and Education, LARES advisors are also available to assist students in their transition to UIC. LARES advisors work with admitted students in helping them adjust to the culture of higher education. They are also available to assist with financial aid questions, course registration, provide information on academic and scholarship opportunities, and inform students of college graduation requirements. The LARES advisors use its summer orientation sessions to provide admitted students with a sense of belonging by not only helping them connect to fellow UIC undergraduate students but to also introduce them to student organizations to further encourage their involvement.
The LARES program welcomes you to UIC and encourages you to connect with your LARES advisor early on. To identify your LARES advisor, visit the LARES Advising link; students are assigned to LARES advisors based on their major and
pre-educational goals.
As a newly admitted first-year and transfer student, please complete the following tasks:
Complete Placement Exams (Requirement for First-Year Students)
When: If you have not done so already, complete your placement exams today. (Placement exams are available from February to July.)
How: Visit my.uic.edu and select the "UIC Connect" tab for placement exam information.
Complete Your Orientation Modules
When: Modules open June 1st.
How: Visit my.uic.edu and select the "UIC Connect" tab for orientation information.
Sign Up for the LARES Program
When: Register as soon as possible.
How: Visit the Sign Up! link on the LARES website for registration information.
RSVP for Our LARES Virtual Sessions
When: Register as soon as possible; LARES Virtual Sessions begin the first week of June.
How: LARES Virtual Session RSVP options are available under the First-Year Student Information, Transfer Student Information, and Parent Information links.
Apply for a LARES Scholarship
When: Visit the LARES Scholarship Opportunities link for individual scholarship deadlines.
How: Select the scholarship(s) you are interested in under the LARES Scholarship Opportunities  link in order to identify specific scholarship requirements.
Join Our Live LARES Chat Sessions

When: Our sessions will take place on Mondays from 2pm-2:30pm.
How: Chat with us here!